You may have seen on my social media recently that I have been experimenting with some lower carbohydrate alternatives to traditional side dishes.  Pasta, noodles, rice and> even chips! Basically these are vegetables made into their starchy carbohydrate alternative. Whilst I do not advocate cutting out carbohydrates completely, they are a macro nutrient our bodies need.  Read all about Carbohydrates here!
Reducing Starchy Carbs is a good option for helping with fat loss.  Focus on enjoying starchy carbohydrates around your workouts but getting the bulk of your carbohydrates from fruit and> vegetables.  I totally appreciate however that this can seem quite boring, we are so used to serving noodles with a stir fry, bolognaise with spaghetti, chilli with rice and> of cause steak & chips but some of these alternatives may help!
First up – Cauliflower Rice!
Now to me a bowl of chilli is just not the same without a side of rice, but in a bid to reduce starchy carbs & after enjoying cauliflower rice at the Wedges & Weights Supper Club last year I gave it a go. (Check out the details from the Supper Club here) I actually expected it to be a bit of a nightmare to make so to say I was surprised at how easy it was is an understatement. I got myself a cauliflower, roughly chopped it, threw it in the blender, blitzed to a rice consistency and> boiled for about 5 minutes.
After my success with cauliflower rice I went for Parsnip Chips, now these I wouldn't rave about quite so much!  I love parsnip so I did enjoy them but in truth they were not a great alternative to the chip, they definitely felt more like a vegetable side. If you do want to give them a go, start by chopping the parsnips into thin fries, after heating a roasting tray with a little oil throw in the parsnips, season and> roast for about 20 minutes depending on how thin your fries are.  Easy!
Finally the last alternative I have tried is courgetti, or courgette noodles. These can be used as an alternative to pasta or noodles, and> are another huge success.  Here I served them with some meatballs: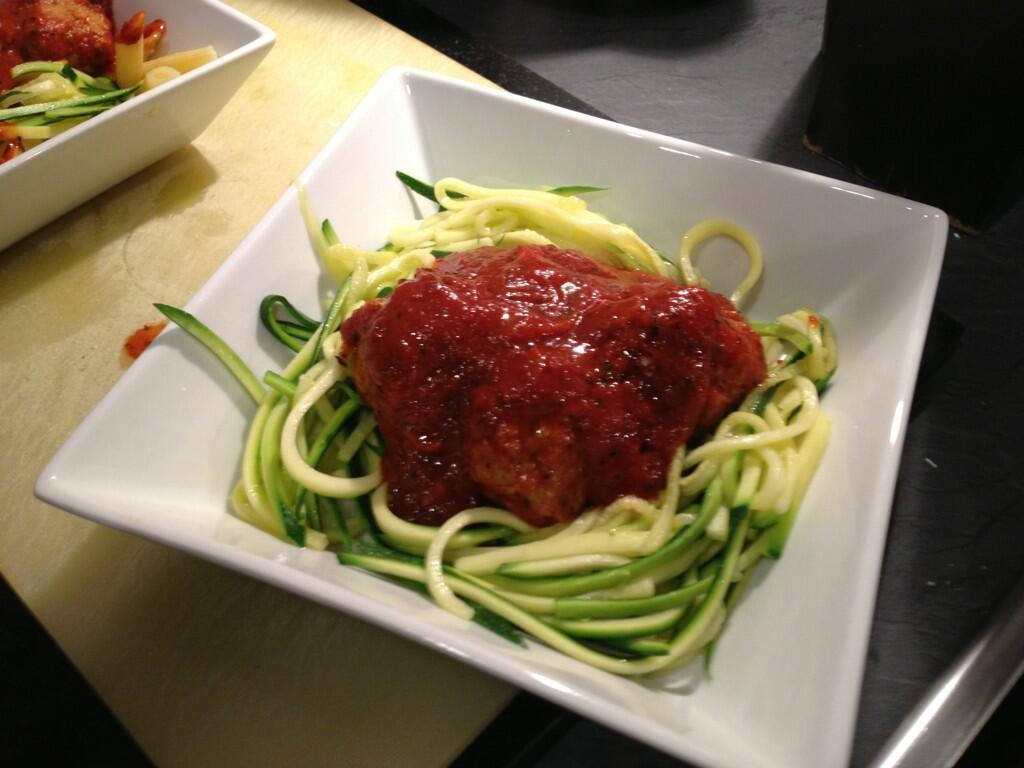 You can  also use them in stir fries as noodles and> they work equally well.   You can use a spiraliser, a mand>olin or just a speed peeler and> a knife to create the noodles.  To cook, heat a large pan add some oil and> cook for 2-3 minutes until soft, serve with your choice of dish! Amazing!
I believe the supermarkets are now more aware of these vegetable alternatives and> you can buy ready packed versions.  I am yet to try these as I'm new to the trend and> have found these to be really easy and> cheap to make.  However the pre-packed versions may be worth a look if you don't have the time or inclination to make your own! I am going to be taking a look at the shop bought alternatives in the future so keep an eye on my social media for my thoughts!
Let me know if you try any of these recipes you can follow me on Twitter, Facebook and> Instagram or if you have any other low carb alternatives for me to try!
Keep Healthy!