On Thursday evening I went to a fabulous evening hosted by the lovely Hannah Mills from Garden in Hale, Cheshire  – an organic cafe serving healthy, nutritious meals focusing on seasonal and> local ingredients.  I've never been to the Garden before, but will definitely be heading back – the food is incredible and> it is such a lovely little cafe.
On arrival, we were greeted by Hannah and> given a little glass of fizz to enjoy, along with a bobble bottle with water to stay hydrated during the evening! Life is all about balance and> it was the perfect start.
We then got to mingle with some of the other guests, and> see the menu – everything sounded AMAZING! It was great to see some familiar faces at the event, but also to meet some new people, and> put faces to the Twitter Hand>les! There is a great fitness community on social media, and> these events are an opportunity to finally meet up with people you feel you already know, and> chat properly about our lives.
So onto the first course – this delicious plate of Buckwheat tabbouleh with pomegranate, topped with falafel and> beetroot hummus: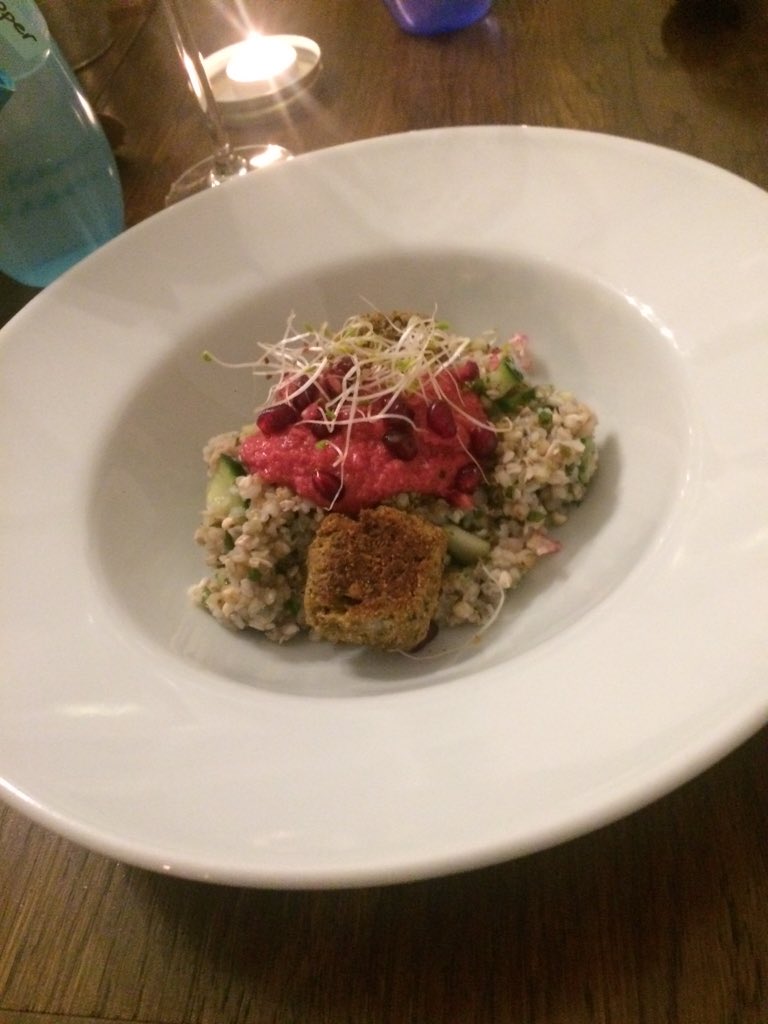 I love beetroot and> I love hummus but have never had the two together!  This was so delicious, the hummus went well with the falafel which was gluten free – and> the little bursts of fruitiness that came through from the pomegranate really livened the dish up!  I think everyone was impressed around me as well given all the clean plates!
Before the main course Hannah gave us some tips on how to stay healthy over the festive period given all the food & drink that surrounds us at this time of year! From ways to squeeze in exercise or to how to start the day well it left us all feeling motivated to stay healthy whilst still enjoying some festive cheer! What I love about Hannah is her philosophy! She is all about balance!  My favourite of Hannah's tips was linked to this and> was actually all about indulging! But indulging in the best! Instead of mindless munching on whatever is around, you know what I mean – the chocolates, the crisps or that processed apple pie, only indulge in the things you really want! I know I can be guilty of this so it is something I am definitely going to be conscious of this year.
Then it was on to the main event – the immune boosting Chicken & Sweet Potato Thai Yellow Curry, a spicy bowl of goodness!
Another of Hannah's tip was about winter proofing your body by including lots of immune boosting foods, and> this curry certainly packed a punch! Think Turmeric, garlic and> chilli!  The Curry was served with cauliflower rice, which I have heard loads about from health foodies – but I had never tried it – boy have I been missing out! A perfect low carb alternative it had a great taste, and> texture and> took on the flavours of the curry well.   I am now on the hunt for a recipe to try it at home!!
And then finally the bit we had all been waiting for – Raw Chocolate Orange Cheesecake – our little bit of indulgence for the evening!
The cheesecake was absolute heaven, so yummy & rich with a lovely crunchy nutty base! I don't think I have ever eaten a dessert so slowly, I didn't want it to end!  I will definitely be back for more of this cheesecake!
After the cheesecake it was time for us all to head home, but not before Hannah presented us all with a goodie bag full of fabulous fitness treat! Including the Bobble Bottle – to help keep us hydrated throughout the festive season! Another top Wedges & Weights tip!
I have to say a massive thank you to Hannah and> the Garden, the evening was a massive success, and> I thoroughly enjoyed it! The food was incredible and> Hannah was the hostess with the mostess! I left feeling super motivated and> ready to have a fun & healthy Christmas!